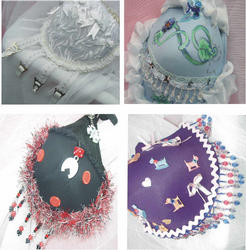 What is a Bra Purse?
It is an evening bag made out of a Real Bra.
It is created for special occasions -like a date, Prom, Dinner, Dancing, and especially for Girls Night Out!! This "pocket on a string" is made from 1 to 2 large cup under wire padded bra. The parts are separated and re-assembled into an evening size bag. It is big enough to carry a wallet, phone, make-up and keys. Decorative cording or the brassiere straps formulate the handle. There can be a snap closure or a drawstring. This bag can also be adorned with charms, sequins, feathers, trims, lace or any other recycled materials. These "artwear" treasures are unusual, handcrafted, and functional. Cyndilou uses fun colors and designs, to make beautiful accessories that you will be proud to purchase and wear.